There is one spot that in your home that is always buzzing. It's where everyone congregates, enjoying delicious food, great fun and lots of laughs. It's a place to come together to talk, play games, even craft. When it comes to throwing a party or hosting a dinner, there are infinite possibilities when it comes to decorating it! So where is it? Your table, of course! From centerpieces to place settings to flatware, there are so very many ways to decorate your table! Since Halloween is on it's way, we've dug up some of our favorite spooky décor!
Poison Halloween Table Setting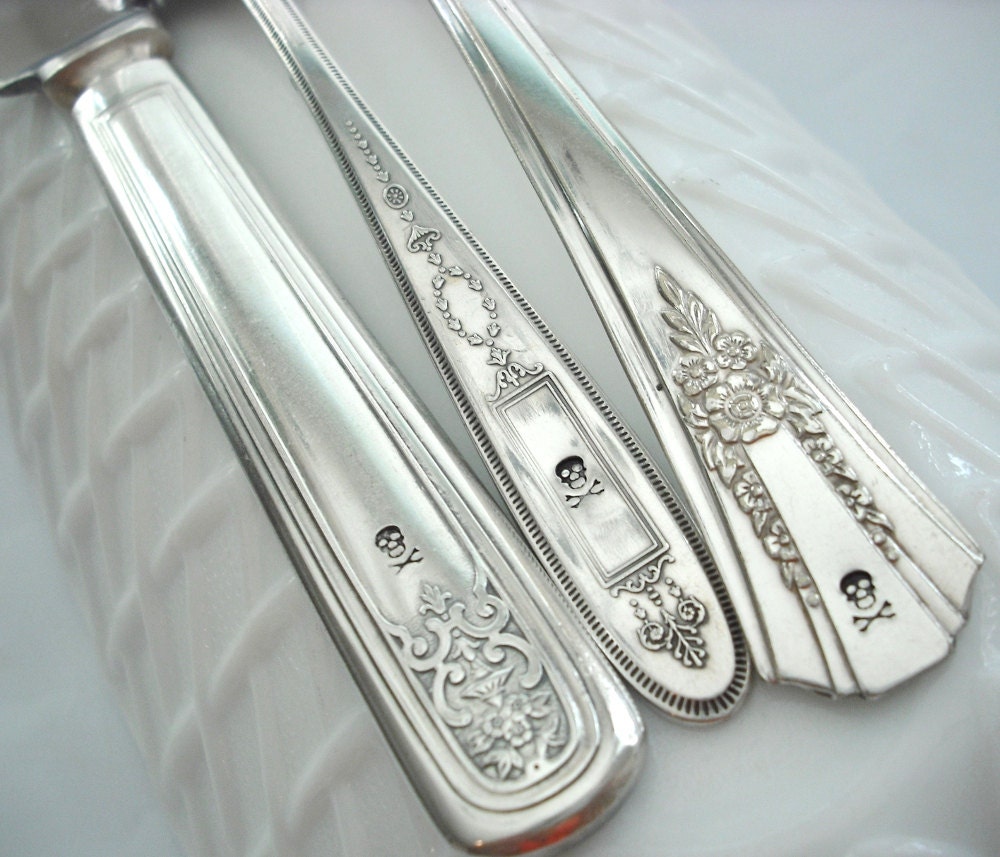 When it comes time to set a place at the table for your guests, serve them up a dish of spookiness with this elegantly and equally spine-tingling flatware set! Hand stamped with a skull and crossbones, this set comes with a fork, a knife and a teaspoon. Each and every piece of this vintage flatware has a past, adding to the "spook factor" of each item. Your guests will wonder where you found this one of a kind tableware!
Serve your favorite "witches brew" in this one of a kind handmade ceramic skull punchbowl set! This set comes ready for you to paint and decorate, which could make a fun Halloween activity for you and your children to do together, or you can even request that it be finished for you! Guests will love sipping spooky drinks from this awesome punchbowl set that comes with the skull punch bowl, lid, ladle, four mugs, and two candle holders!
When it comes time to decorate those creepy cupcakes or your favorite spooky sandwiches, don't just stick a regular old toothpick in it! Reach for one of these witchy food picks! Handmade with polymer clay and bamboo, these three witches are the perfect finish to your kitchen wizardry!
We can't forget the napkins! This beautiful set of eight embroidered napkins each feature a different graphic, from witches to pumpkins, skeletons and more! These napkins have been pre-washed and dried to avoid shrinkage, so they are ready to add some spooky spunk to your All Hallow's Eve dinner party!
Evoke an eerie atmosphere with this coaster set. Featuring the gorgeous design of a skull island with a tree on top and departing crows. Skillfully crafted, each item can have slight variations from one coaster to the other, that is the charm of the handmade, never looking as though it was mass produced. Beautiful and eerie at the same time, these coasters are a true treasure.
PRINTABLE Wine Labels, Halloween Spooky Labels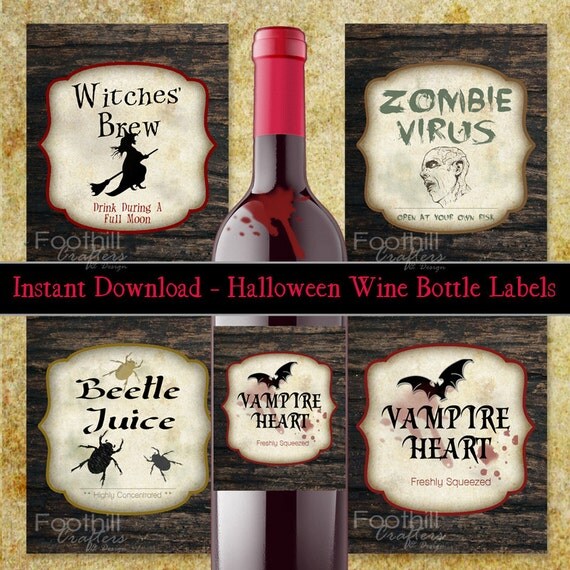 When your guests reach for some refreshment, give them a scary surprise with these creepy handmade wine bottle labels! These labels are created in a vintage style, making them chic and stylish and perfect for your next get together! If you don't like them as wine bottle labels, you can also request them as gift tags that would be the perfect topper to a creepy gift! Get ready for a hauntingly good time!


-----------------------------------------------------------------------
For more great Halloween Finds, check out
The Ultimate Guide to Halloween Resources for DIY Projects, Crafts & Kid Costumes


-----------------------------------------------------------------------



-------------------------------------------------------------------------
Interested in indexing your products with us?
Register as merchant
and we will review your products and get back to you within five working days.



If you have an Etsy store, boutique, invention or business and would like to be featured on our website, please
send us a note
and one of our representatives will get in touch with you.
"Like" us on
Facebook
, follow us on
Twitter
and you'll never miss out on any of the reviews, discounts and giveaways we feature each week! Sign up for our weekly email newsletter here: