Now that spring is officially here, the flowers will be blooming, the sun will be shining warmer and the children will surely be playing outside more often! Another thing the warm weather always brings is trips to the beach! We've come across some of the coolest beach gear that are must-haves this year! Check them out!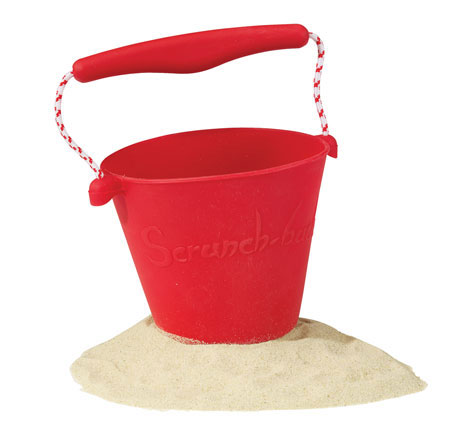 A classic beach toy is the shovel and bucket. But this isn't just any bucket, its a scrunch bucket! And what exactly is a scrunch bucket? This awesome bucket is super pliable and can be shaped, scrunched and bent into all sorts of shapes! When it is time to leave, the scrunch bucket fits easily into a diaper bag, beach bag or purse!



When we take our family to the beach, we want to keep them safe, and these sweet swim trainers make it very easy to keep your tots safe when they head for the water. Not only are these life preservers, but they are also bathing suits in one! The life vests also detach super easily for when kids "gotta go."
These are definitely something you want to pick up before your next trip to the beach!



A fun activity for children and adults alike is building sand castles! While there are tons of tools out there for doing so, there is only one that makes the activity a lot more fun! The Baudino Spilling funnel is meant to mix sand and water to help you build awesome sand structures! This is one tool you'll want to have in your sand castle building kit!




With children, it's inevitable that they're going to want to play with our electronics. But we don't have to leave them unprotected! This Overboard Waterproof Ipad case will keep your iPad safe and dry during your family trips to the beach. Whether spill or splash, your iPad will be safe and sound with this awesome case.



Leaf Me Here
When you go to the beach, you of course want to soak up some sun, but when it comes time to grab some shade, set up the Leaf Me Be canopy that provides up to 95% UV protection! Made of durable aluminum and a Sombrilla canopy, and a convenient carrying bag for when it's time to leave, you'll never want to leave your beach towel!


------------------------------------------------------------------
Looking for more cool baby products? Check out our blog   have a peak at our shopping pages and don't forget to subscribe for our newsletter below.
Interested in indexing your products with us? E-mail us your on-line store URL and we will get back to you within 2 days.  Indexing your products on MomSE is absolutely FREE! Read more about us and what we do here
If you have an Etsy store, boutique, invention or business and would like to be featured on our website, please
send us a note
and one of our representatives will get in touch with you.
"Like" us on
Facebook
, follow us on
Twitter
and you'll never miss out on any of the reviews, discounts and giveaways we feature each week! Sign up for our weekly email newsletter here: