There is something pretty special about handmade finds. Just the sheer fact that they are assembled with love and care by someone's own two hands makes it a wonderful find. You know that here at MomSE, we're all about bringing you the best handmade, unique and pre-loved products. So today, we are sharing with you the best Etsy finds of the week!
Nothing says spring like a beautiful dress, full of colors! This is that dress! This could even be an Easter dress for your little darling! It is created from Japanese imported linen fabric with a beautiful print of springtime flowers, leaves and grass. The neckline is is gathered, using elastic, making it easier for your child to put on and take off. The sleeves are made out of a soft cotton and linen blend, making this a super comfortable outfit for your little girl that she will get years of use out of!
Your little cowpoke will love this long sleeved graphic tee shirt, perfect for pretending to play at the rodeo! This tee shirt is made of heavy weight soft 100% combed cotton and features the silhouette of a cowboy as the graphic. Your cute cowboy will love going on his wild west adventures when he wears this sweet little shirt!
Your little fashionista-in-training will simply adore this beautiful pink dress! This french-inspired fabric gives off the air of the beautiful clothing that you find in France! The dress also features a french hatbox design and bow, and 100% cotton designer fabric! Inside, it is lined with white cotton.
This dress would be perfect for tea parties, dinner parties, or any special event that you have to attend!
Big Brother Non-Personalized Tie T-Shirt and Little Brother Personalized Tie Onesie 
by Chic Couture Boutique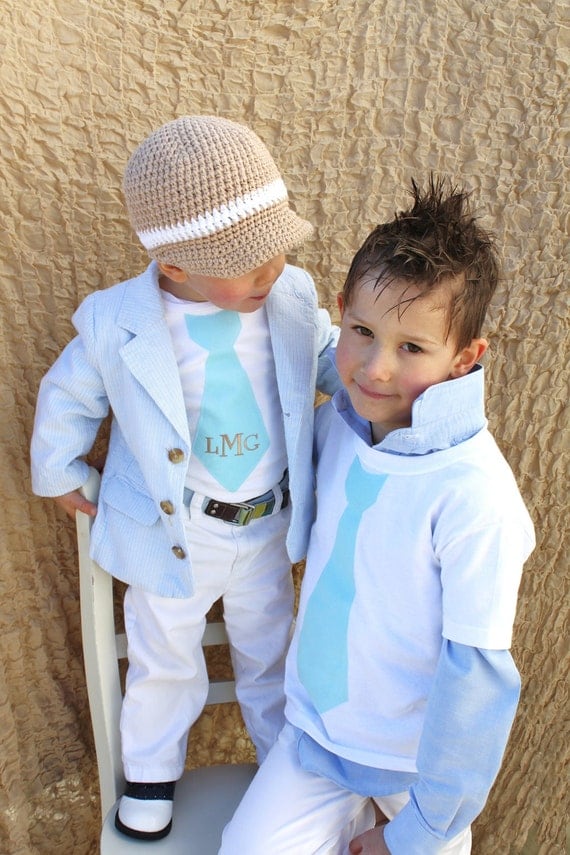 If you have little boys, then this is most definitely the perfect outfit for the two of them! Whether you are dressing them up for a holiday, or just taking them to grandma's, these adorable tee-shirts and onesies are sure to always make a statement! With a plethora of different tie swatches to choose from and different t-shirt colors, the possibilities are endless to create an outfit to match anything, really!
Check out our growing library of Easter  articles and slideshows and don't forget
to sign for our newsletter, so we can keep you posted on our latest finds.

FOOD
  
Interested in indexing your products with us?
E-mail us
your on-line store URL and we will get back to you within 2 days.  Indexing your products on MomSE is absolutely FREE! Read more about us and what we do
here
If you have an Etsy store, boutique, invention or business and would like to be featured on our website, please
send us a note
and one of our representatives will get in touch with you.
"Like" us on
Facebook
, follow us on
Twitter
and you'll never miss out on any of the reviews, discounts and giveaways we feature each week! Sign up for our weekly email newsletter here: