It's that time of the week again! From sweet shirts to awesome aprons, we've totaled up the views on these products, and these are the most loved products of the week!
Heart Ears Earflap Beanie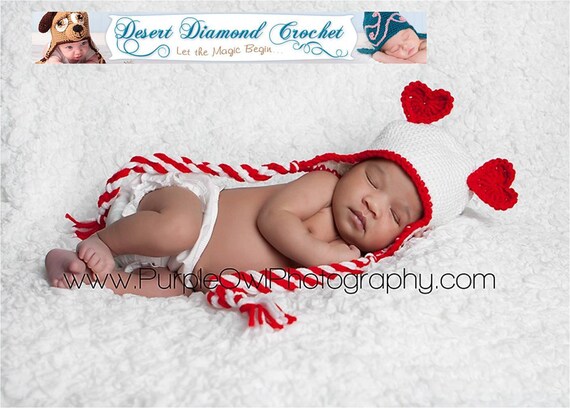 This adorable little hat is both fashionable and functional, keeping your sweetie warm and cuddly. Designed and handmade by Desert Diamond Crochet, the hat can be made in any size and any color combination that you so wish. The hat comes in four sizes, 0-3 months, 3-6 months, 6 months to child, and child to adult.
 
Organic Pinafore Ida Red Nesemaus Apron
With a design reminiscent of Pippi Longstocking, this adorable little apron is just the thing for your little one when helping you in the kitchen, baking those Valentine's day treats! With a red and brown gingham pattern on the outside, and white cotton on the inside, this apron is made for your tot's style and comfort. On the front of the apron is a white pocket, in the shape of a heart. Straps cross each other in the back. This apron features a wide pattern allowing the wearer to enjoy this for many years to come. All materials are organic and guaranteed free of harmful substances! And YES eventhough this shop is in Germany, they do ship to USA. 
Valentine's Day Boy's Bow Ties
These adorable bow-ties will add a little touch of class to your little gentleman's outfit! This lovely little style gem is crafted from a woven black cotton with the word "love" printed in cursive in pink, red and white colors. The bow tie comes in four available sizes; infant (0-3 yrs), toddler (2-6 yrs), child (4-8 yrs), and preteen (8-13 yrs). Another fun fact: these ties also come in adult sizes too-can we say a daddy and son photo op? The infants tie features a Velcro closure for easy removal if necessary, and the other three sizes feature a hook, loop and slide closure system. They are 100% cotton and spot cleanable.
These cute little bow ties are the perfect touch to your little guy's outfit! These are produced in a wide array of colors and patterns, to suit your taste. The fabric used is 100% soft cotton, for comfort. These bows are fully adjustable, using a Velcro system. One size typically will fit a child of 9 months all the way up to 4 years.
Black/Red Bib Set-Baby Bandanas (Four Organic) by OliveAndVince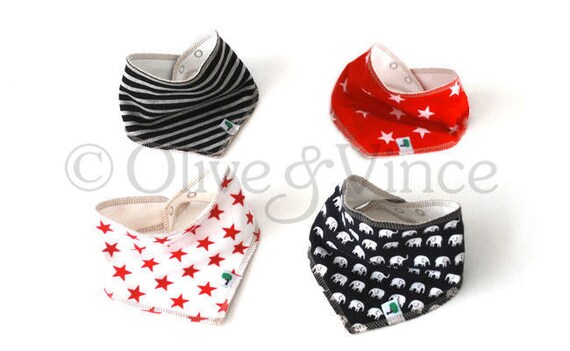 With these cute little baby bandana bibs, your tot is sure to be the most stylish diner at the table! These bibs are created to be minimally intrusive around the neck, with two sizing options which will typically fit a child of 6 months, all the way up to three years. Each bib is created with a 100% cotton top-layer, and an absorbent organic bamboo cotton fleece mix under layer (70%/30%). These amazing bibs come in 40 pattern and color options and are made to order!
Red Valentine's Day Onesie or Toddler T-Shirt With Heart Or Tie Applique Designs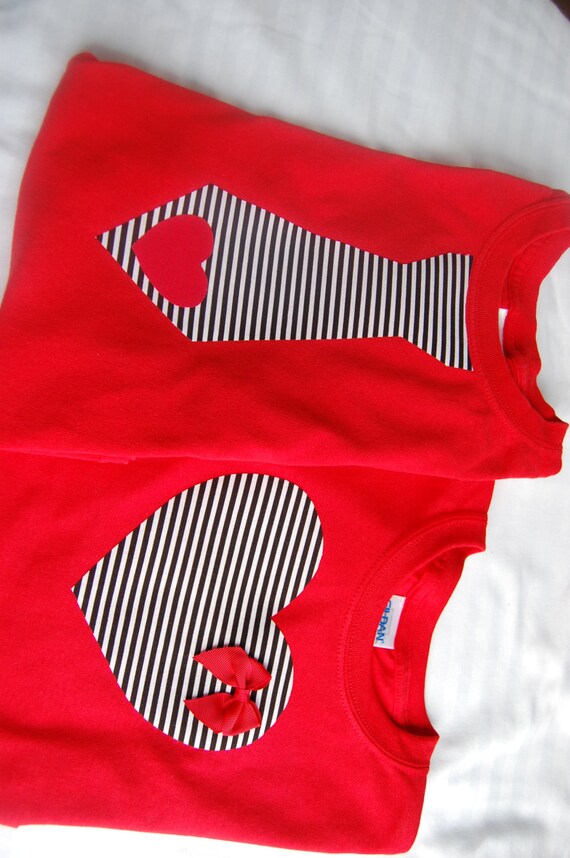 Boy or girl, these shirts and onesies are absolutely perfect for Valentine's day! Your little man will look dapper with a tie applique on a t-shirt or your little princess will look cute as a button with the heart applique! These come in sizes NB, 6m, 12m, 18m, 24m for the onesies, and for the t-shirts; 12m-24m, 2T, 3T and 4T sizes. These also come in a variety of different color choices.
What a dapper little gent your tot will be in this adorable Valentine's Day Vest Onesie, featuring a cute little red bow tie! This cute little outfit features a sewn-on brown chevron vest and a snap-on bow tie of your choice! The bow tie is easily removable for washing. It comes in 7 convenient sizes and are made from 100% cotton.
Baby Boy 2013 Heart Valentine's Day Tie Onesie
An adorable onesie for an adorable little boy! This 2013 heart Valentine's day tie onesie is a part of ChicCoutureBoutique's Red Tie Onesie collection. The pattern featured is a red tie with cute little white hearts. This onesie also comes in 7 convenient sizes.
Valentine's Baby Hat 2 Felt Red Hearts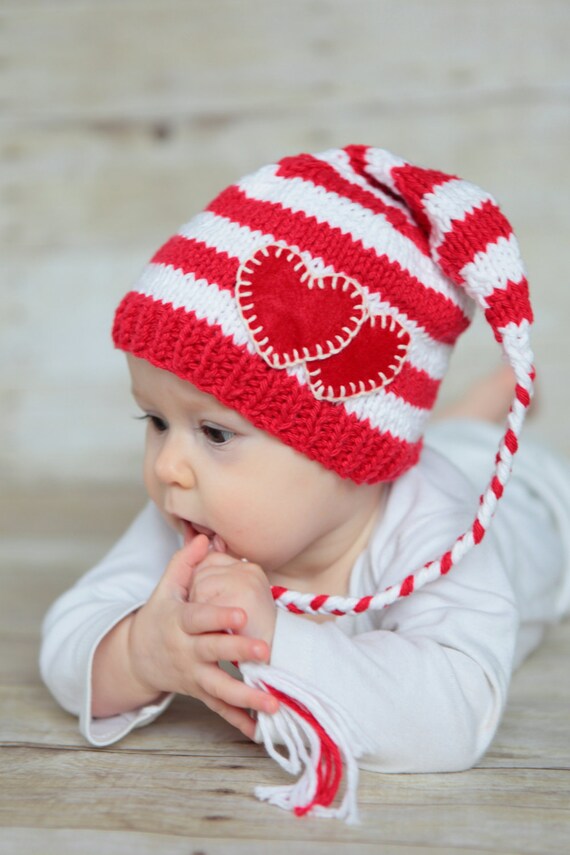 This cute little hat is the perfect complement to any of your little one's outfits! This hat comes in the size 3-6 months, and is handmade of 100% cotton, and has two felt heart appliques on the front of the hat, so your tot can share the love!
 
Interested in indexing your products with us?
E-mail us
your on-line store URL and we will get back to you within 2 days.  Indexing your products on MomSE is absolutely FREE! Read more about us and what we do
here
If you have an Etsy store, boutique, invention or business and would like to be featured on our website, please
send us a note
and one of our representatives will get in touch with you.
"Like" us on
Facebook
, follow us on
Twitter
and you'll never miss out on any of the reviews, discounts and giveaways we feature each week! Sign up for our weekly email newsletter here: