It's the sweetest time of the year, Valentine's day! We've scoured the web to bring you the most adorable fashions for your little darling! From hearts to hair accessories, we've bought to you the most stylish must-haves for your budding fashionista!
Sequin Heart Puppy Tee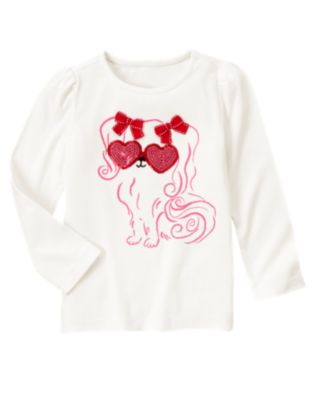 This puppy has a lot of heart! This cute little tee-shirt features a stylish little screen-printed pup, complete with pick-stitched grosgrain bows and big sequin heart sunglasses! This tee is 100% cotton rib and machine washable.
Available at Gymboree.com for

only $21.95!
Be Mine Heart Pony Holder Two-Pack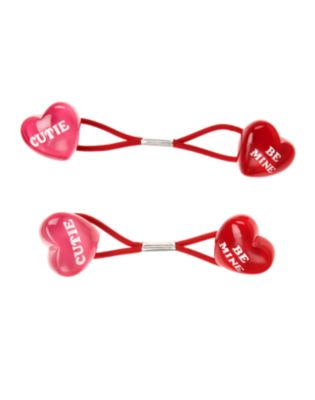 A must have for any Valentine's day hairstyle! Complete your cutie's look with these pony holders! They feature plastic conversation hearts with the words 'cutie' and 'be mine', are created with comfortable elastic bands that will keep hair in place, without pulling it. Normally $7.00, these are on sale at
Gymboree.com with a buy one get one 50% off deal!
Heart Skirt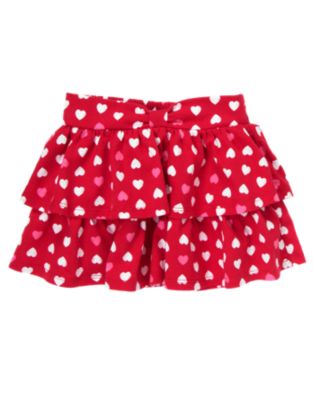 This skirt is full of love! Your sweetheart will look too cute in this heart skirt that sits just above the knee and is made of 100% cotton jersey for ultimate comfort and style. For ease of dressing, this skirt is a pull-on style. For just a little added extra flair, the skirt also features a bow detail!
Available over at Crazy8.com for $9.71!
Sparkle Heart Denim Sneaker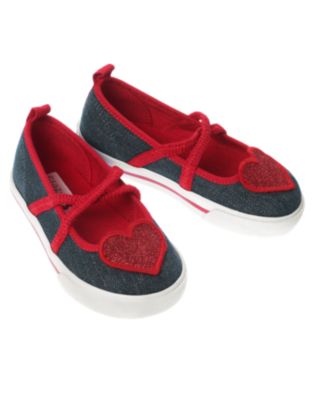 Girls Heart and Balloons Tee
This is one tee-shirt that will last long past Valentine's day! An adorable lime green tee features a jersey soft applique of a girl holding a bunch of balloons! The applique is embellished with embroidery and a cute little grosgrain bow. This tee is 100% cotton rib and machine washable.
Available at Gymboree.com

for $12.99 now

!
Flower Dot Boot


Don't just save these cute boots for a rainy day! These sweet rubber rain boots will keep your child's feet warm and dry. With an easy pull-on style, full lining and a textured sole, these boots were designed with your child's comfort in mind. These boots are pink and green with white polka dots and a cute little daisy design on the side.
Available now at Gymboree.com

for only $32.49!
Heart Stripe Sweater Skirt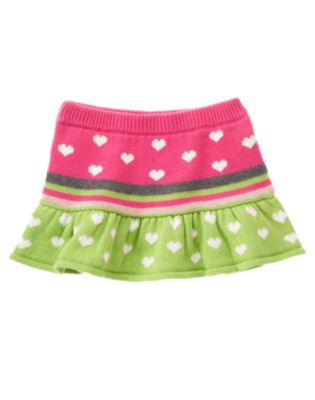 This sweet little skirt is the perfect complement to Gymboree's Girl's Heart and Balloons tee and Flower dot boots! The skirt is made with 100% cotton, and is machine washable. For easy dressing, it features a pull-on style, and sits just above the knee. Featuring a cute stripe and heart pattern and a sweet little ruffle,
this skirt is available at Gymboree.com

for only $22.49!
Flower Sweater Hat

This hat is functional and fashionable! A cute 3-D flower adds dimension to this hat, as well as a bright green scalloped trim! Made with 100% cotton. Your little one will make a fashion statement and stay warm all at the same time!
Available now at Gymboree

for only $14.99!
 Stay tuned for more great Valentine's day finds for your little ones!

Check out our growing library of 

Valentine's Day 

articles and slideshows and don't forget 
to sign for our newsletter
, so we can keep you posted on our latest finds!



Interested in indexing your products with us?

E-mail us your on-line store URL and we will get back to you within 2 days.  Indexing your products on MomSE is absolutely FREE! Read more about us and what we do here

If you have an Etsy store, boutique, invention or business and would like to be featured on our website, please send us a note and one of our representatives will get in touch with you.

 

"Like" us on Facebook, follow us on Twitter
and you'll never miss out on any of the reviews, discounts and giveaways we feature each week! Sign up for our weekly email newsletter here: