Ahh, the anticipation of Christmas morning. All the presents and excitement and as moms we want to be a part of it all and not be stuck in the kitchen making a huge breakfast. But we still want to make something special for the occasion so we have found a delicious solution. Here are some easy recipes that can be made ahead and then enjoyed on Christmas morning.

If you have a special recipe that keeps you out of the kitchen on Christmas morning share it here or on our Facebook page!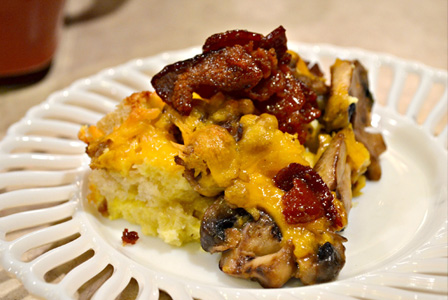 This Christmas morning breakfast casserole from She Knows looks delicious and it can be made up to 2 days in advance! Woohoo!


French toast is one of my breakfast favorites so I was so excited to find this overnight French toast casserole recipe on Mommy's Kitchen!


This quick and easy Monkey Bread recipe from Mommy's Kitchen uses refrigerated canned buttermilk biscuits. Don't they look delicious?


Hash browns, breakfast sausage, ham, eggs and cheese oh my! Check out Grandma Mack's Breakfast Delight for Christmas morning!


This sausage breakfast casserole from Simply Recipes is another one you can assemble the night before.


If you are looking for something a little more light or don't like eggs, check out this festive gingerbread granola yogurt parfait recipe from My Recipes.com!


Homemade pop tarts?!?!?!? Yum! These homemade cherry pop tarts with vanilla bean icing from Spicy Ice Cream can be made ahead of time to be devoured on Christmas morning!


And it gets better—homemade CHOCOLATE pop tarts from Babble.

How adorable are these fruit mince pie pops from Raspberri Cupcakes?


These coffee cake recipes are perfect for Christmas morning! Another great make ahead breakfast idea! From top to bottom: Cinnamon Surprise Coffee Cake from Family Fun, Cinnamon Coffee Cake from Café Mom, Christmas Morning Gooey Coffee Cake with pistachios and raspberry preserves from Foodie Fabulista, and Apple Cinnamon Coffee Cake from One Hundred Dollars a Month.
This Christmas morning oatmeal has steel cut oats, cranberries, blueberries, cinnamon, vanilla and more! Even better it cooks in your slow cooker all night to be devoured Christmas Morning.
 
For more holiday inspired articles check these out on the Mom's Shopping Engine! And don't miss any of our quick click slideshows!

Holiday Inspired Appetizers
New Year's Eve Decor Treats and Attire From Etsy!
DIY Holiday Card Display Ideas
DIY Christmas Decor
Christmas Yarn Wreath With Felt Flowers
Christmas Desserts
Christmas Cupcakes
St. Nick's Day
Girls Christmas Outfits From Etsy
DIY Christmas Ornaments
DIY Christmas Tree Skirts
Christmas Tree Skirts From Etsy
DIY Christmas Stockings
Etsy Christmas Stockings
Personalized Ornaments from Etsy
DIY & Etsy Advent Calendars
Mom's Shopping Engine Holiday Toy Guide
Craft Kits For Kids Holiday Gift Guide
Unique Play Kitchens
Advent Calendar Ideas
10 Winter Crafts For Kids
10 Christmas Crafts For Kids
DIY Christmas Wreaths
And stay tuned for more to come as we gear up for the holiday season!
If you have an Etsy store or a boutique and would like to be featured on our website, please send us a note and one of our representatives will get in touch with you.
"Like" us on Facebook, follow us on Twitter and you'll never miss out on any of the reviews, discounts and giveaways we feature each week!
To learn more about the Moms behind Mom's Shopping Engine and our inspiration for what we do read here!