Most of us have our Thanksgiving menus all planned out. We thought it would be fun to find some festive drinks for the upcoming holiday weekend. These picks make a nice little addition to your menu and we have found non-alcoholic options for the kiddies as well!
So dress up your holiday with a beautiful punch bowl or a fun cocktail spread filled with one of these yummy libations!
Cheers!
Leave out the brandy and this Apple Pie Spiced Cider from Martha Stewart will be perfect for guests of all ages this turkey day!

Leave the pumpkin pie for the kids and treat yourself to this grownup pumpkin libation from Cosmopolitan. Yum. Yum.
This Sparkling Pomegranate Punch from Food and Wine will look festive in any punch bowl this turkey day!
This Skinny Cranberry punch from The Skinny Mom adds just enough glitz to cranberry juice to make it festive and the kids will enjoy it as well!
Another non-alcoholic pick the Sleigh Driver adds pear, cranberry and vanilla to the traditional hot cider drink.
This Apple Cranberry Medley from Pottery Barn Kids is perfect for kids this turkey day. The fizz will make them feel like it is a special treat!
This gin spiked Cranberry Ginger Fizz Cocktail from Creative Culinary looks so refreshing and festive and the colors will carry this libation through the holidays.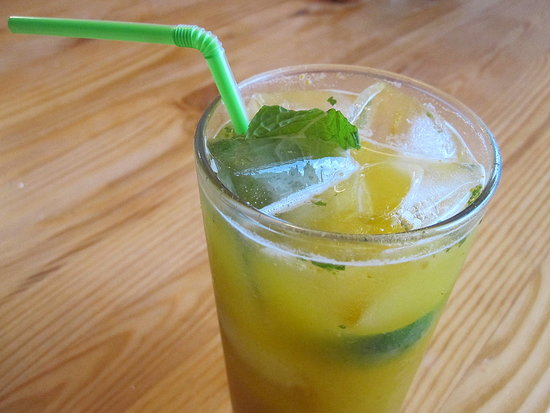 Okay, I will be the first admit that I am a little Mojito crazy. So when I found this pumpkin mojito recipe on Yum Sugar I got a little more excited than most people would. The perfect excuse to make mojitos this Thursday!
Check out our growing library of Thanksgiving articles and slideshows and don't forget to sign for our newsletter, so we can keep you posted on our latest finds!

Festive Thanksgiving Drinks

Festive DIY Thanksgiving Decorations

DIY Thanksgiving Table Decor

Our Favorite Thanksgiving Side Dishes

Thanksgiving Inspired Sweet Treats

DIY Thanksgiving Decorating Ideas

FREE Thanksgiving Printables

Fresh Ideas for Thanksgiving Leftovers

More Great Thanksgiving Leftover Ideas


If you have an Etsy store, boutique, invention or business and would like to be featured on our website, please send us a note and one of our representatives will get in touch with you.

"Like" us on Facebook, follow us on Twitter
sign for our RSS feed and you'll never miss out on any of the reviews, discounts and giveaways we feature each week! Sign up for our weekly email newsletter here: