Most of you will likely be carving those pumpkins very soon with Halloween right around the corner.  Before you dump all those seeds in the garbage take a look at the fun pumpkin seed crafts we have found.  If you don't have the time or patience to clean and dry all the seeds for these crafts just buy a bag of seeds at your local grocery store—the kids will never know!
And if you are not the crafty type, we have also found some great recipes; don't forget how easy and delicious it is to bake your seeds. 
Happy carving, crafting and eating!  Happy Halloween!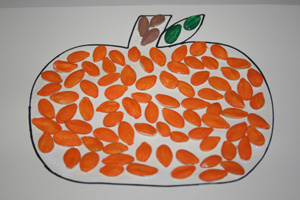 This pumpkin seed pumpkin craft from All Kids Network can be a whole family art project.
We love these pumpkin seed necklaces from Martha Stewart!  Make bracelets and more and the kids will love them!
Gingerbread Snowflakes takes the pumpkin seed necklaces to a whole new level.  How festive and beautiful!!!
With a little food coloring and a lot of imagination your kids will have a blast creating all kinds of shapes and pictures with their leftover pumpkin seeds!  What a great idea from Nestle Family!
What a great family craft project from the Almost Unschoolers blog!
Recipes:
We love this grown up twist on pumpkin seeds from Martha Stewart for those of us who love spicy treats!
These sugar and spice pumpkin seeds from Red Book are perfect for all those sweet tooth addicts!
Sometimes the classic recipe is the best.  You know you won't go wrong with these roasted pumpkin seeds with sea salt from Babble.
For more

Halloween

inspired articles take a look at our growing

Halloween

library of
finds, crafts, DIY projects and ideas

Halloween Baby & Kid Costumes
More Great DIY Halloween Costumes
DIY Kids' Halloween Costumes
Our Favorite Halloween Costumes from Etsy
More Great Halloween Costumes From Etsy
Festive Halloween Attire

  Cool Halloween Costumes

Adorable Candy Corn Outfits

Creative Halloween Family Costume
s
Halloween Party and Decorating Ideas
More DIY Halloween Decorating Ideas
Our Favorite Halloween Inspired Decor from Etsy
Ghosts, Spirits and Phantoms Oh My!
Ghost Decoration Ideas for Halloween
Halloween Food and Sweets
Sweet Halloween Treats From Etsy
Fun and Easy Halloween Food Ideas
More Amazing Halloween Food Ideas

Halloween Crafts
Pumpkin Seed Crafts And Recipes
Unique and Easy Pumpkin Carving and Decorating Ideas

Halloween Crafts

 Candy Corn Ideas for Halloween: Crafts, Treats, Decorations and more

If you have an Etsy store, boutique, invention or business and would like to be featured on our website, please send us a note and one of our representatives will get in touch with you.

"Like" us on Facebook, follow us on Twitter
sign for our RSS feed and you'll never miss out on any of the reviews, discounts and giveaways we feature each week! Sign up for our weekly email newsletter here: