I love a good DIY project. There is something special about creating an item that your family will use or enjoy. We have found some great decorating ideas for your child's room, nursery or playroom. And what is great about these ideas is that they can be adapted to fit any theme or interest. Let us know if you try any of these. We would love to see pictures of your final products! I can't wait to get started. Happy crafting!



I LOVE LOVE LOVE this idea!! We all have those areas in rooms where there is a corner of wasted space. All little kids love playing in tents, forts or under the sheets and this is an adorable solution...reclaim wasted space AND make your little one as happy as a clam. Love it. And you could do this in any room in the house. I was thinking of investing in a play tent or fort of some sort for my daughter but I love this idea instead.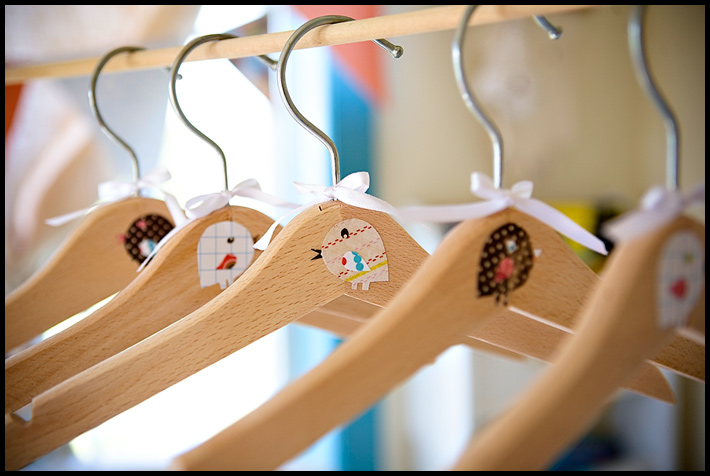 These DIY children's hangers are so simple and sweat and cheap to make! Plus you can have your little ones help you create these fun and functional hangers! The possibilities are endless and their closets will look adorable!

These tulle butterflies are so simple and even sweeter! Make them in any color or shape to coordinate with any room! Attach them to walls, hang them from the ceiling or make a beautiful mobile. Wherever you put them you will send your little one's heart a flutter with this adorable decor!

Crepe paper rose pomanders are simple but elegant. Make them in any color and dress up any room. This project seems like one that might become addicting!

Again, this project is one of those that you can use your imagination with. This beautiful chandelier is made with butterflies but if your little one is more into frogs or cars you can easily adapt. If you can find the paper punch you will be in business! Are the wheels turning in your head yet?

This project solves the too-many-pictures dilemma we all have. If only we had more wall space to hang all the beautiful snapshots of our families! I love this beach photo jar. What a great gift idea for grandparents or other family members as well. And you can take this idea and run with it again. Just adapt the decor of your jar to fit the theme and you are set!

If you loved these DIY ideas then check out some of our other DIY finds here!