Your baby is on the way and you are gathering the essentials for when your little one comes home. The age old question naturally arises: "Do I really need both a bouncer and a swing?". The short answer is Yes! There is no way of predicting which, if any, your baby will like. What is clear is that when you bring home your bundle of joy and you are suddenly at a loss of how to soothe her or get anything done you will be happy you have both a bouncer and swing to try out. And remember you can always return whatever you don't use or sell it to someone else in need. My baby luckily loved both the bouncer and the swing and it was great to have two options to keep her occupied although the swing gave me the most free time as a new mom to do things like.... go to the bathroom.
My daughter actually took great naps in the swing and the bouncer as well.
Even if you decide you don't want to buy both, here are some helpful features to look for when making your purchase:

Swing

If you can find a model that has a plug-in option you will save a bundle in batteries. If not, be sure you have backup batteries for your backup batteries on hand at all times.
Find a swing that has multiple motion options (both back to front and side to side) and speeds
Look for a swing with an adjustable seat with different recline positions
Removable seat cover for easy cleaning because it will get dirty
A tray or mobile or something you can attach toys to help entertain your child
Travel Swing option--these models are more portable for multiple floors or for travel

Bouncer

Bouncers are a lot more basic and simple. The one thing that you must get is one that vibrates. This is a must. As a new mom you will learn very quickly how important those vibration features are for your baby.

That all being said here are some of our favorite swings and bouncers. If you have a favorite please tell us about it here or on our facebook site. Also, we would love to hear which your child like the best and which product helped the most!



The Fisher Price Infant to Toddler Rocker is awesome. If you are at all hesitant about buying both a bouncer and a swing, this is a product that will grow with your child up to 40 pounds! This has all the features of a bouncer with vibrations and it converts to a rocker or a stationary infant seat with the kickstand.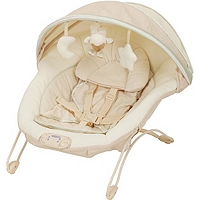 The Graco Soothe and Swaddle Bouncer is as comfortable as it looks. This is definitely a deluxe bouncer with a built in swaddle blanket, nature sounds and lullaby, and two different vibration speeds to soothe him. This is the closest thing to the womb!



If you want to go a more budget friendly route--especially if you are getting both the bouncer and the swing then this is the bouncer for you. This Bright Starts basic bouncer has all that you need--it vibrates.



This Fisher Price travel swing is great for small spaces or houses with multiple floors. I used this swing with my daughter and it worked out great. It has 5 swing speeds and 7 different songs. I loved the portability of this swing and my daughter loved it! I recieved this as a hand me down from my sister who used it with two of her kids and it still worked great for us.



This full size swing has every bell and whistle you could want. Front to back and side to side motion, snack tray, mobile, music, 6 speeds, ultra plush seat, 2 position recline and more.

Be sure to check out our other Baby 101 Shopping Guides here!